Details and Specifications
Would you like to shoot your Mini-30 more, but have trouble seeing the sights?  Now this ever-popular war horse can now be outfitted with the latest sighting technology, thanks to the unique design of the Mini-Scout-Mount ™Mini-30.  It installs in minutes so you can easily and securely mount red dot sights or a pistol scope for faster target acquisition and better peripheral vision while shooting. You can also install the optional Tactical Light Mount Kit ™ for quick and reliable attachment of most tactical flashlights, lasers and other accessories.  Get the most out of your Mini-30 and enjoy shooting it more!
The Mini-Scout-Mount™ 30 will fit the Original Mini-30 with the non-flanged barrel.. 
The Mini-Scout-Mount™III will fit the new version of the 580 and up series (.223, 6.8spc, and 7.62x39) with the heavier "flanged" barrel. 
Click on the BARREL ID tab to determine which model you have.
Check your Barrel
IMPORTANT!
Make sure you order the right mount for your barrel.
See the photographs below to identify your barrel.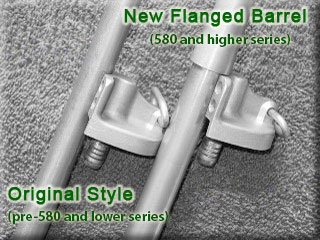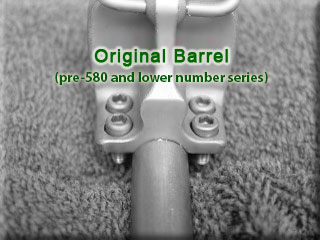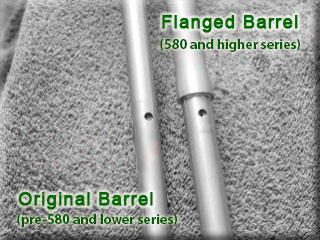 Suggested Accessories for Ruger® Mini 30
When combined with our Tactical Light Mount Kit ™ it is your BEST solution for attaching a flashlight or laser sight to your Mini. Add a pistol scope or red-dot sight and you have one of the fastest handling scout carbines ever assembled!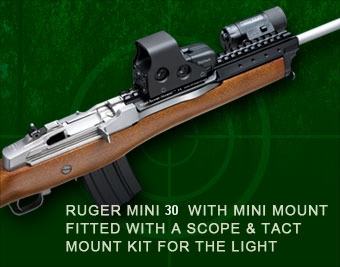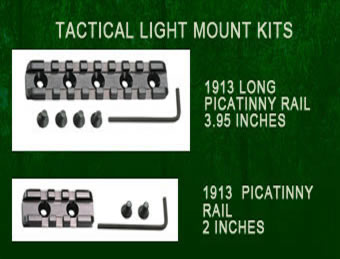 FAQs for Original Mini 30 (pre-580 series)
A: Absolutely ! Check the barrel ID tab to make sure you have an Original Mini - 30 (non-flanged barrel). The FAQ's for the Mini III mount apply to the Mini-30 mount also.
FAQs for New RUGER® Mini-14/6.8/30 Series 580 and higher.
A: Our first product for the new Ruger Mini - 14/6.8/30 Series was called the Mini II. We have refined the design, improving the rigidity, accuracy and reliability. This mount will fit all 3 calibers (.223, 6.8, and 7.62x39) of the new Ruger model 580 series (flanged barrel).
A: YES…but only in the area of the gas block assembly.
A: Yes. Our mount does not interfere with the use of a regular scope mounted in the traditional position over the receiver. You may have to go to higher rings for your scope to clear our mount.
A: Contact our Customer Service and we will coach you through some steps to fix that.
A: We do NOT recommend using a torque wrench to install these screws. Please use the hex wrench provided to install them.