Details and Specifications
The Ruger® 10/22 Carbine is the most popular .22 rimfire semi-automatic rifle ever produced, and the ideal platform to build a fast handling plinker or small game gun.  
With a Mini-Scout-Mount™10/22 Carbine you can upgrade to a scout format that will accept the latest technology available in modern sight systems, lasers, tactical flashlights, etc.  Now you can enjoy faster target acquisition, better peripheral vision, and improved accuracy. 
The Mini-Scout-Mount™10/22 Carbine Take-Down fits the new 10/22 rifles (with barrel band). The mount is slightly shorter than the regular 10/22 mount.
Installs in minutes with simple tools and comes in flat black anodize.  Requires a CARBINE style stock, so click on the MODEL ID tab to determine which model you have.
Identify your Model
IMPORTANT!

The Mini-Scout-Mount™10/22 Carbine will fit wood or synthetic stocks, including folders, as long as it is a CARBINE style stock with a BARREL BAND and a STANDARD weight barrel.  Our replacement barrel band is required for installation and will only fit a CARBINE style stock with a BARREL BAND.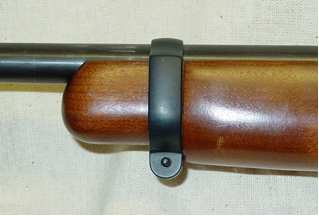 Suggested Accessories for Ruger 10/22
When combined with our Tactical Light Mount Kit ™, it is your BEST solution for attaching a flashlight or laser sight to your Mini. Add a pistol scope or red-dot sight and you have one of the fastest handling scout carbines ever assembled!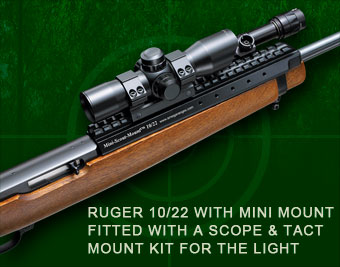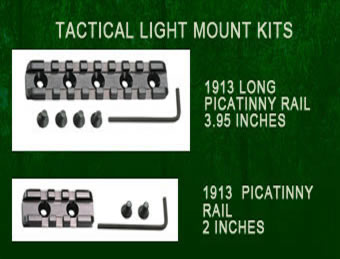 FAQs for Ruger ® 10/22 Mount
A: NO. Our mount requires the barrel band to work, so only Carbine style stocks are compatible.
A: IF your folder uses the Carbine barrel band, YES.
A: Any kind. Traditional, scout or pistol scope styles will all work. We recommend a pistol scope. They are more compact and have longer eye relief, which allows better peripheral vision.
A: MAYBE. You should see a small improvement in average group size with most types of ammunition.
A: Yes. The mount body for the 10/22 is only a little wider than the width of the stock at the front of the forend. The stock is tapered, while the mount body is straight. Synthetic stocks seem to have less taper and therefore less overhang at the front of the forend.
A: This mount weighs 8.1 ounces and is 9.965 inches long.
A: NO. Our mount design requires the barrel band stock that comes on the 10-22 carbine and the dovetail rear sight slot on the barrel for installation.
A: Maybe... We need the barrel band stock to make our mount work.  I do believe that Hogue does make one that uses the barrel band.