Details and Specifications
This new model Mini-Scout-Mount ™ fits all US military spec M1-Carbines (including those made by Kahr Arms), and has the same great features as the proven Mini-Scout-Mount ™ for the M1-Garand.
Bolts on with NO permanent modifications required
Full-length sight base accepts all modern sight systems (ACOG, Red Dot, Holosights, etc.), Pistol or Scout scopes
Made of precision extruded and machined aluminum alloy
Flat non-reflective, hard anodized finish
Does not interfere with OEM sight use
Accepts Tactical Light Mount Kits
Remains solidly in place and dissipates heat
Check your Barrel
IMPORTANT!

Our mount will fit all variations of US Mil-Spec M1-Carbine barrels. It will NOT fit the Universal or Iver Johnson Carbines.
Suggested Accessories for M1 Carbine
When combined with our Tactical Light Mount Kit ™ it is your BEST solution for attaching a flashlight or laser sight to your Mini. Add a pistol scope or red-dot sight and you have one of the fastest handling scout carbines ever assembled!
Our Tactical Light Mount Kits will fit ALL models of Mini-Scout-Mount. On the shorter models (Mini-14, M1-Carbine), the LONG Tactical Light Mount Kit can still be installed, but will extend past the front of the mount.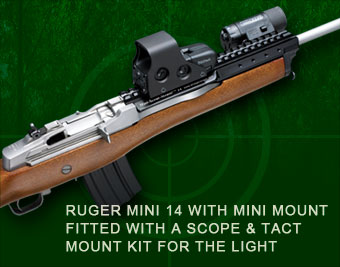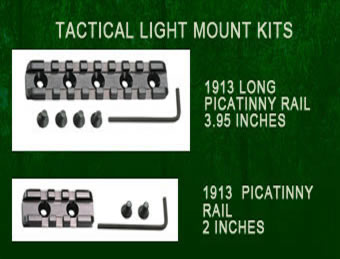 FAQs for M1 Carbine Mount